Just like every previous year, KMEWO celebrated IWD with peer and sister organisations as well as women and their families from Kurdish and Middle Eastern communities in London. KMEWO celebrated organisational achievements and continues to work hard to raise the voices of Kurdish and Arabic speaking women in the UK and raise awareness of issues affecting women within these communities.
On6th March 2015, Gona Saed , Sahar Nuhi and Ghada Al-Kadi represented KMEWO in the 'Supporting Refugee Women: Domestic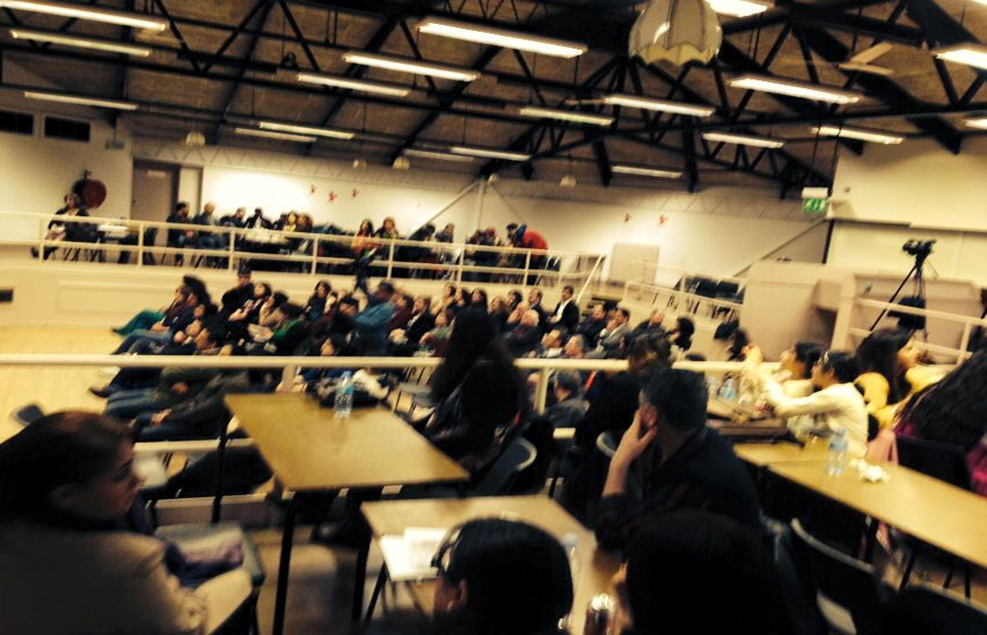 Violence' Event organised by Evelyn Oldfield Foundation at the London Metropolitan University. The event was enriched with contributions from many inspirational migrant and refugee women from different communities. The day was packed with networking and knowledge-sharing of the challenges faced by refugee and migrant women in accessing mainstream services and overcoming these challenges. Gona Saed gave a presentation about KMEWO's services for women, such as supporting them to assert their rights and get out of violent relationships and threats of Honour Based Violence, securing their safety and supporting them to become independent and rebuild their lives in the UK. Gona spoke of the challenges and divided them to three types. First there are the cultural and religious barriers preventing women from seeking help. Second, there are challenge caused by lack of understanding and training amongst service providers and women's past experiences of institutional racism. Finally, there are organisational challenges such as funding cuts and the lack of resources and recognition of the many life-saving services of organisations like KMEWO.
On 7th March 2015 , KMEWO and International Federation of Iraqi Refugees Co organised a seminar and social event for Kurdish community residents in Islington and the neighbouring boroughs. KMEWO's director Sawsan Salim spoke about the new challenges facing Kurdish women at the times of war in Iraq and Syria. She talked about the kidnapping and sexually enslaving thousands of Yezidi women by Islamic State ISIS, and expressed the need for an international voice to lobby for their immediate release and rehabilitation.
Sawsan also talked about the victories of women in Kobane and their brave resistance against fundamentalism and terrorism in the region and praised women's participation in rebuilding their society in Syrian Kurdistan. Further, she addressed the most progressive Personal status law "Social Contract by Jazira canton" and called for a similar Equality Law for Kurdish women in Iraqi Kurdistan. Sawsan announced that KMEWO is supporting women's struggle for full equality in Kurdistan and the region. The event continued with traditional Middle Eastern food and music until late.
On Sunday 8th March, KMEWO and a number of other Kurdish and Middle Eastern women's organisations including Kurdish Women Rights Organisation, Kurdish Women's project  , Rojhalat Women's Organisation and Gorran Women organised an afternoon of panel discussion, poetry and socializing in Greenford London. The event was attended by several hundreds of Kurdish families.
Gona Saed and Sawsan Salim from KMEWO were amongst the panellists. The panel discussion focused on the challenges women are facing in different parts of Kurdistan and the Middle East in their fight for equality and liberation. Among the issues discussed were institutional discrimination by states and political forces, the effects of war in Iraq and Syria, the sexual violence and sexual slavery faced by Kurdish women after the emergence of ISIS in the Middle East since June 2014 and the role of women in opposing religious fundamentalism. In her speech, Gona questioned the situation of women's rights before the recent conflict and explained that women did not live carefree lives, but for many years were subjected to continuous discrimination as a result of the significant influence of religion in Kurdish society and the limitation of personal freedoms through various laws and legislation, religious institutions, policing and doctrine. Lack of equality and women's rights perpetrated by almost every government in the region resulted in mass inequalities and widespread practice of Domestic Violence and Honour Based Violence. Women were struggling for better rights and freedoms on almost every level in Kurdish society, and the arrival of ISIS and the subsequent war practically killed all hope for better rights for women.  The women of Kobane stood out and showed that a different role for women is possible:  most striking are the women warriors and the armed mothers against terrorism and in the front line of war on fundamentalism. Women regained hopes for a better future and more rights and although they are conscious of the fact that the struggle for freedom and equality in the Middle East will still be a long and complicated one, it can succeed with the determination of progressive-minded women and men.
In her speech, Sawsan Salim focused on the need for change regarding the current Personal Status Law in Iraqi Kurdistan with Equality Law. She highlighted all the articles of the current law that lead to discrimination against women, such as allowing for polygamy, giving women half the share of inheritance compared to men, inequalities in divorce rights, custody of children and the list goes on. Sawsan explained that women in Iraqi Kurdistan actively participate in society at the political, economic and social level. However, the Kurdish Regional Government is still preventing many women to obtain and exercise their equal rights. One of the ways the Government perpetuates inequalities is through keeping in force the discriminatory laws that haven't changed since the government of Sadam Hussein more than 24 years ago, such as personal status law and the Iraqi penal code.  Sawsan explained that as a result of some articles still in force in Iraqi Kurdistan women are severely punished for crimes such as adultery and abortion while men receive a smaller punishment for killing women under the name of honour killing. Finally Sawsan introduced Equality Law, an alternative proposal to Personal Status law and called for support from participants.  Many people at the conference signed a petition to urge the Kurdish Regional Government to abolish the current outdated personal status law and replace it by the new Equality Law.