This August 3rd marks the two-year anniversary of the brutal attack of the Yazidi people in Sinjar Province in the Northern region of Iraq, Two years since IS (Daesh) stormed towns, villages, and historic homelands of the ethno-religious group, killing over 5,000 men and elders, enslaving over 7,000 women and children and displacing over 400,000 more.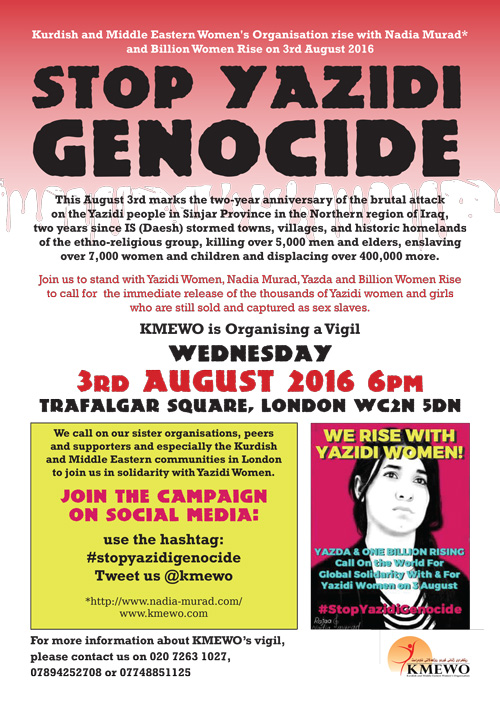 Join us to stand with Yazidi Women , Nadia Murad , Yazda and Billion Women Rise to call for  the immediate release of the thousands of Yazidi women and girls who are still sold and captured as sex slaves.
KMEWO is Organising a Vigil
Wednesday 3rd August 2016  at 6 pm
Place: Trafalgar Square , London WC2N 5DN
We call on our sister organisations , peers and supporters and especially the Kurdish and Middle Eastern communities in London to join us in solidarity with Yazidi Women.
Join the Campaign in social media :
use the hashtag: #stopyazidigenocide
Tweet us @kmewo
Gona Saed
Tel: 0044 7894 2527 08