Film and Presentation & KMEWO's 2014 AGM

Thursday 13th November 2014 at Caxton house community centre from 10:00 am – 2pm On Thursday 13th November 2014 the Kurdish & Middle Eastern Women's Organisation held a combined FGM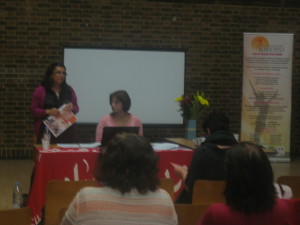 awareness seminar and AGM which attracted a staggering eighty guests. Amongst them were thirty professional invitees from the police, schools, health and VAWG organisations. The feedback from many of the visitors was very positive and encouraging.
With KMEWO's dedicated teamwork in planning, organising and arrange the day's activities, making sure that it was widely publicised and properly targeted; with KMEWO's position within the Kurdish, Middle Eastern and North African communities, through the provision of quality service and solid achievements, the event was attended by many professionals as well as women service users form the community.
The seminar went extremely well – it was captivating, awe-inspiring and very informative.  KMEWO's Director Sawsan Salim  briefly introduced the organisations' FGM project and the workshops she has been delivering since May this year ; Sawsan highlighted the changes in attitudes of parents within the Kurdish community especially since FGM has being criminalized in Iraqi Kurdistan too . Although Female Genital Mutilation has recently become a subject of general discussion; there is much unawareness about what is involved and the countries where it is widely practiced.
Dropping the Knife: a 2013 BBC documentary was screened; this documentary (26 minutes in length) highlighted the scale of FGM, statements from victims of the consequences of FGM on their lives and stories of women and girls in the region who were victims of FGM. It also cover the story of a woman whose 10 year old sister died as a result of bleeding from FGM and a 7 year old girls who escaped her mum and the cutter and survived FGM. The documentary also highlighted 10 years of anti-FGM work and campaign that was carried out by WADI Organisation and brought many changes to the attitudes of the government and the local community. It is vital to mention that as a result of WADI's campaigning work on FGM, this practice was banned by law in Iraqi Kurdistan in 2011.
Falah Muradxan Shakarm is at the front line of anti FGM campaign in Iraqi Kurdistan, and is currently involved in FGM research in different parts of the Middle East, a human right lawyer and well-known campaigner from Women and Human rights gave a presentation explaining their anti FGM campaign's journey and their future plans in the Middle East to highlight the practice within communities that are hardly talked about.
Most people in the UK seem to associate the practice of FGM with African countries and are oblivious to the fact it is also widespread in Kurdistan (Iraq) and the Middle East. Falah Shakarm was able to enlighten the audience on both these details, which evokes a measure of disbelief amongst the shocked and flabbergasted audience.
A police officer commented: "I have learnt so much, especially about the extent of the practice in Kurdistan"
A health visitor commented: "Please keep on inviting us to these seminars, we need to know about this kind of work that is happening in the community and making huge changes ".
The AGM was a success; KMEWO's Chair, Director and Project Manager all gave their reports for the activities and projects in the last year. KMEWO's accountant reported on last year's finances and new management committee for KMEWO was elected and approved for the coming year.
To see our annual report  click here: